Summary of day 4 of INC2 – Contentious points in the "potential elements" document on the road towards a Zero Draft
During IGC2, you will hear delegates refer to the "potential elements" document fairly often. This was a document created in the intercessional period between INC1 and INC2 and was based upon the input received after INC1 on what Member States, Regional groups, and Stakeholders on what they expect to see in the future treaty.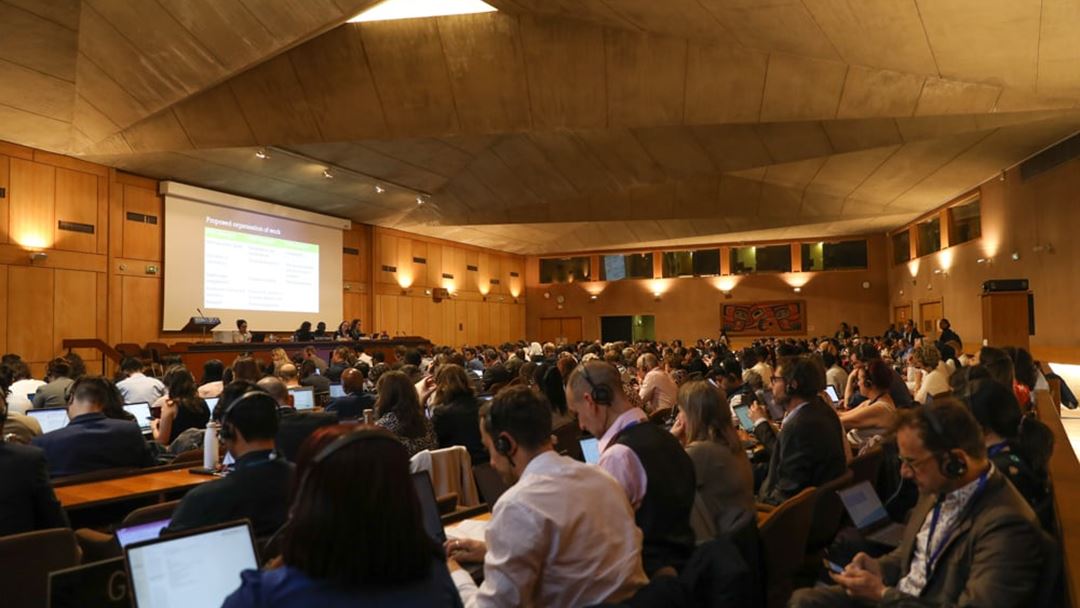 To discuss these potential elements two contact groups were created at INC1 – one is focused on negotiating core obligations, control measures, and voluntary measures of the treaty while the other is focused on means of implementation and implementation measures as laid out in the potential elements document.
How do we form a treaty when we can't agree on harmful impacts of plastic pollution?
There was a key divergence appearing in the first contact group, namely whether plastic pollution is 1) a plastic production and consumption problem that needs to be regulated at the global level, or 2) a waste management problem that should be regulated nationally?
Day two of substantive negotiations began with options for targets to consider and possible 'core obligations' within this context. These core obligations focus on sustainable production and consumption, transition to circular approaches, and sound management of waste. Many member states stressed the need to include national circumstances in the core obligations.
A fault line appeared during the first morning of core obligations discussions through, on the very first possible core obligation on 'phasing out, and or reducing supply or demand for PRIMARY plastic polymers'. One opinion was to establish global targets to reduce plastic pollution, including the primary production on plastic. However, other views offered however, were that plastic pollution is mainly caused by mismanagement of waste not from plastic itself, and that we must therefore use nationally determined plans based on capabilities and capacities to manage it.
The next possible core obligation was 2 on banning or phasing out problematic and avoidable plastic products, where the differing opinions were on intentionally added microplastics vs. unintentionally added ones. It was clear that nearly all member states agreed to ban or phase our intentionally added microplastics – while there was disagreement and 'lack of scientific consensus' on how to properly handle unintentionally added MPs.
Part 2 - What is Common but differentiated responsibilities – and why is there disagreement about it when it comes to the Plastic Treaty?
One of the more visible chasms we saw today in the second negotiation contact group, which discussed means and measures of implementation of the future instrument (the Plastic Treaty), was that of Common But Differentiated Responsibilities, originating from principle 7 of the Rio Declaration of 1992. This principle says that "In view of the different contributions to global environmental degradation, States have common but differentiated responsibilities. The developed countries acknowledge the responsibility that they bear in the international pursuit of sustainable development in view of the pressures their societies place on the global environment and of the technologies and financial resources they command".
This was written in the comment box of section C, paragraph 3 on "Technical Assistance" under Means of Implementation in the "elements" paper. The comment reads "…Financial assistance modalities established under the instrument could provide for financial and technical support for developing countries, and for developed countries to contribute to such financing, in accordance with the principle of common but differentiated responsibilities». Some developed states very strongly stated that they would not accept inclusion of this in the Zero Draft, whereas several developing states were insisting on its inclusion.
Fees and taxes for plastics treaty showed more consensus between the north-south chasms, though. This was found under paragraph 24 of "Financial Assistance" under Means of Implementation (section C, paragraph 1). In (a), footnote 19 said that: "A multilateral fund could be set up to receive contributions from various funding sources, including…taxes on trade, fees and taxes on unnecessary plastics and other sources as defined by the agreement." Similarly, in (e)(i) of paragraph 24, plastic fees, taxes or levies were suggested as innovative financing opportunities. Both developed and developing states that gave opionions on this were generally against this at the global level, though most also considered it a tool for domestic legislation. The multilateral FUND on the other hand, there were disagreements on, with developing countries wanting there to be one whereas developed countries were more open for other funding combinations.
Friday is the final day of these negotiations, where the path towards INC-3 should be set out and the necessary elements of a zero-draft text should be clear for the Chair to develop and circulate in time before the next meeting.