Serious games that give serious results
Welcome to this introduction of 'Serious Plastic Game: PLASTICENE' – a serious game about the sustainable use of plastic packaging. Feel like being launched into the seat of the prime minister, responding to large-scale events, making policies and governance strategies? If so, this short blog post is today's must-read for you.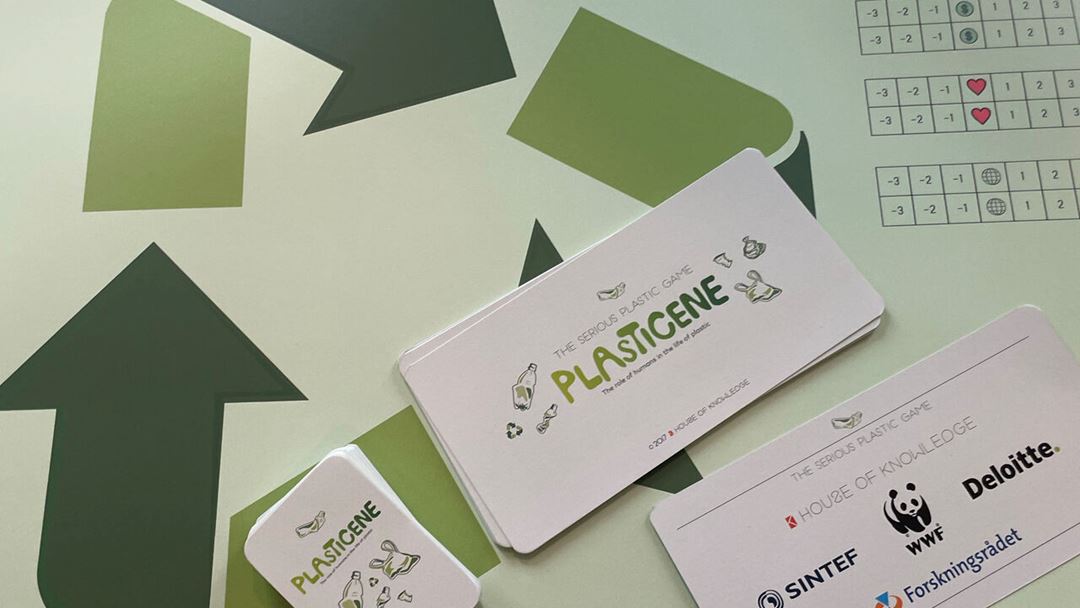 At House of Knowledge, we develop and use serious games to create insight and understanding, facilitate exchange of perspectives, trigger curiosity and reflection, and collect data for research projects. Before we get ahead of ourselves though, what are Serious Games, and why do we believe they can accomplish such diverse goals?
Although there is no agreed upon definition of the term, you can think of Serious Games simply as games with some form of purpose beyond entertainment – learning, problem-solving or decision-making, for instance. This can take many different forms, from the simplest quiz app to elaborate business simulations ran over the course of several months. Games can be on-site, like in the picture, digital, or a hybrid – we plan to create and use all forms in this project.
Although serious games are diverse, there are some factors we believe need to be in place for the format to make sense and work as intended. For instance:
While single player Serious Games are common, we believe the full potential of games is acheived through collaboration, to ensure that participants can learn from each other.
The topic or problem has to be complex and practical in some way – if you can easily read up on it, a game doesn't make sense.
The game needs to engage participants, as engagement improves learning and collaboration. What that looks like differs from game to game.
Participants should have ample opportunity to use their existing knowledge, skills and experience in the game to connect the topic to what they already know.
What's more - it should obviously be interesting and enjoyable, and having great graphics is a big plus!
For the purposes of PLASTICENE, the Serious Game will see participants with diverse backgrounds put together in a virtual or physical room to discuss, reflect and collaborate to reach understanding and gain insight into courses of action. The game itself will be the backdrop for this interaction, sparking the curiosity and creativity of participants by presenting a framework for collaboration. To achieve this, the game needs to provide the kind of information and narrative that sparks creativity and reflection, at the right time. By designing the game with these goals in mind, we aim to ensure that the Serious Game experience is enjoyable, appropriately difficult and adapted to individual needs – and that data collection and dissemination from the project is simple, effective, and purposeful.
The game storyline follows the lifecycle of plastic packaging. The game has three phases in the circular (or not) flow – first, consumers' initial encounter with plastic packaging when using a product, then moving on to the reuse and recycling of plastics, and finally looking at the production of plastic packaging. Throughout the three phases, players are put in the seats of government, encountering events to resolve, applying relevant governance strategies to counter and improve. The long-term planning and reference point of all decisions in the game is linked to working towards and reaching the prioritised UN Sustainable Development Goals.
House of Knowledge has created similar games previously in diverse fields, including environmental governance, business strategising and policy development, intellectual property and standards. From these previous experiences and a broad psychological and educational foundation, we have derived a framework for Serious Game design that balances topics and goals with the necessity of creating an engaging experience for participants. For further information about a similar type of game, the "Serious IP Game" about the WIPO Global Innovation Index and how to improve the innovation ecosystem, a blog post on the WIPO/GII website can be found here.
Blog post written by Magnus Hakvåg (pictured left) and Håvard Almås (pictured right) of House of Knowledge