A member state-driven process: Closing of the second session of the INC to form the treaty to end plastic pollution.
In the final moments of INC2 at nearly 22:00 on Friday the 2nd, the chair of the INC presented one final remark from French writer Victor Hugo; "It is sad to think that nature speaks, and human beings do not listen. When we listen to nature and we act, we can make progress."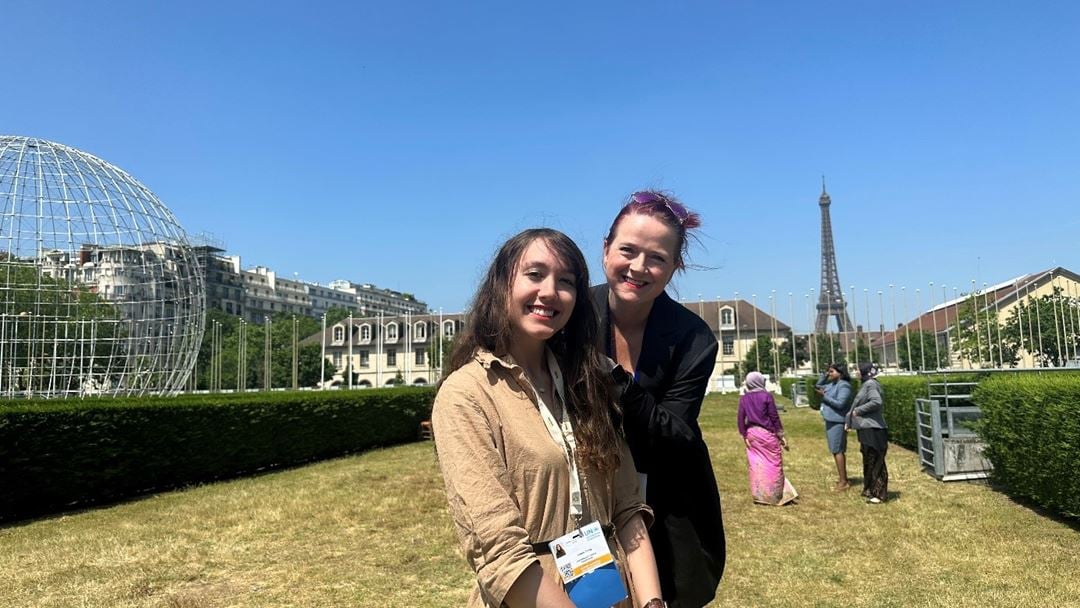 Authors: Emily Cowan and Rachel Tiller
After discussions in contact group one on the twelve 'core obligations' [see blog post from day 4] continued into the early morning hours of June first – the final day of INC2 was officially upon us. The morning of the 2nd of June 2023 started with a summary of the work which took place during the past day and a half of negotiations. The mandate of the Co-facilitators is clear – Identify member states' views on elements and options for the basis of the future treaty.
There were numerous converging views as well as gaps in agreement that took place during both contact groups over the week. However, as this was more in a discussion format and not negotiations - interventions made this week were to show opinions and views on elements the protentional treaty may include. For the first contact group on the 12 core obligations – there was broad consensus to include obligations based on science, risk assessments, and human rights-based approaches. Phaseouts or bans on unintentionally added microplastics as well as not overstepping and instead building upon previous multilateral environmental treaties such as the Basel and Stockholm Conventions were also discussed with a wide agreement. In terms of divergence – the views were again clear and nearly split down the middle between going for a treaty with more global core legally binding measures or simply nationally determined and/or voluntary action plans. This will most definitely be a point of contention when the zero draft text hopefully begins negotiations at INC3.
Constructive Ambiguity was a term utilized throughout INC2 on this matter. this term - credited to Henry Kissinger, refers to ambiguous language on a sensitive topic – in this case, treaty negotiations with diverging viewpoints. It's used to disguise an 'inability to push forward and resolve issues' similar to how after INC2 we are at a similar place as INC1 in terms of not agreeing on the rules of procedure (mainly R38) and yet to develop a zero draft text to negotiate (this was a task given to the INC secretariate before INC3).
Plenary afternoon - The final plenary at INC2 began with statements summarizing the two contact group reports found here: Contact Group 1 & Contact Group 2. After the co-facilitators described briefly what was written in these reports, the chair attempted to close out this session of summaries when several member states – Saudi Arabi, United States, United Kingdom, EU, and Iran raised their hand to take the floor and mention several 'converging' items were not correctly reflected in the report. After a 10-minute recess, the session continues only to be paused again with an informal discussion on how to move forward in the intercessional period – this lasted nearly two hours.
After shuffling back into the main Plenary Hall, finally, it was the final hours of the last sessions on the second round of negotiations on a treaty to end plastic pollution. In the end, the informal group decided on how to carry out matters in the time between negotiations. This is a process called the 'Intersessional period' and it was determined this period would include a deadline to submit written submissions (from both member states and NGOs) to the INC secretariate to include in work leading up to INC3 – request to prepare a zero-draft text- and an invitation to form informal expert groups leading up to INC3 in Nairobi, scheduled for mid-November 2023.
The final gavel came down at 21:45 on the final day of the negotiations. Moving forward towards intersessional work was discussed in the final plenary and member states expressed concern with the need for definitions to avoid misunderstandings – this was specific for the life cycle approach, circular economy, polymer types and just transitions. The ability to provide statements and feedback on the Zero Draft is expected to be submitted to the Secretariat by mid-August for Stakeholders, and mid-September for Member States.
"When we listen to nature and we act, we can make progress" – Victor Hugo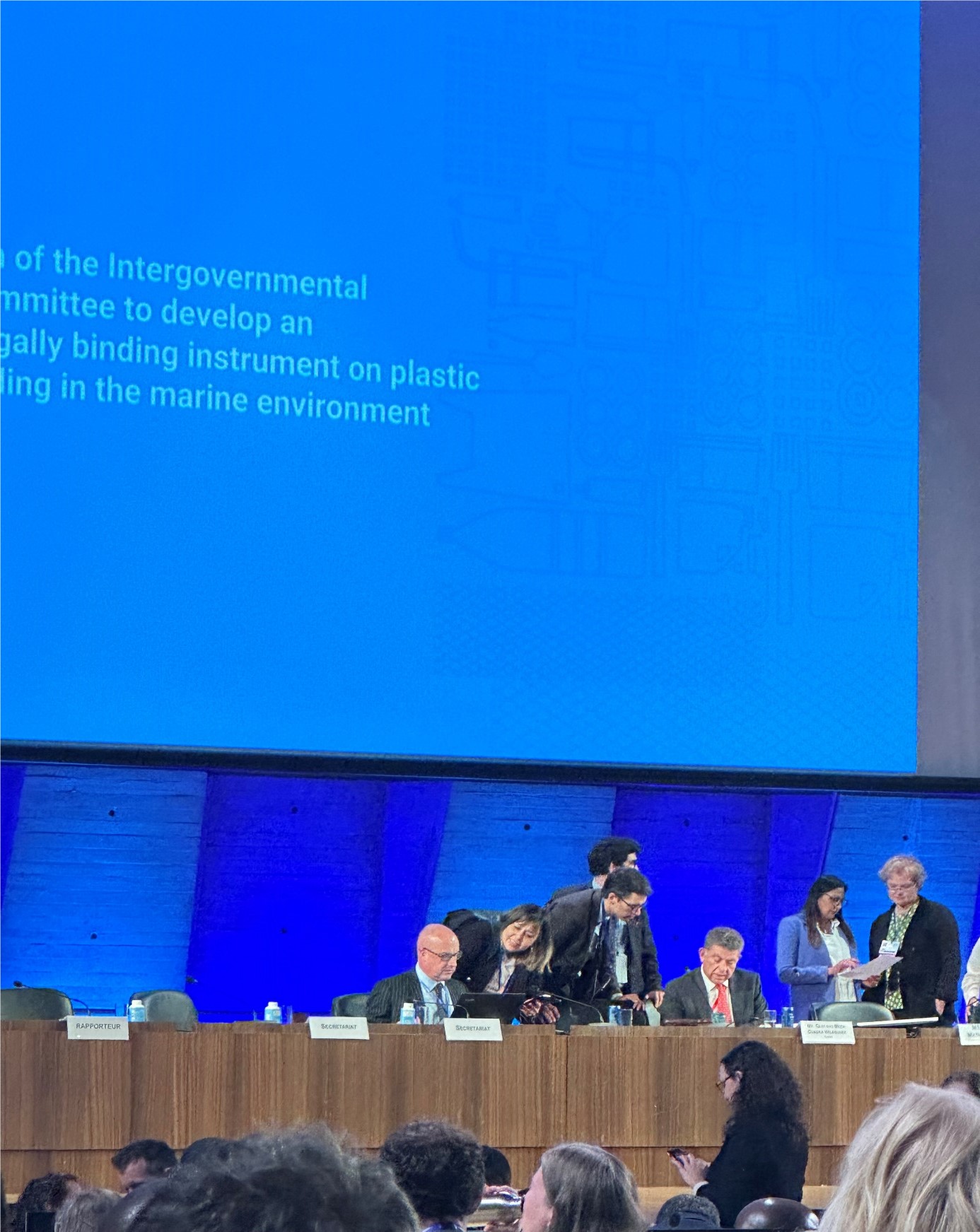 Plenary about to resume again – 3 hours delayed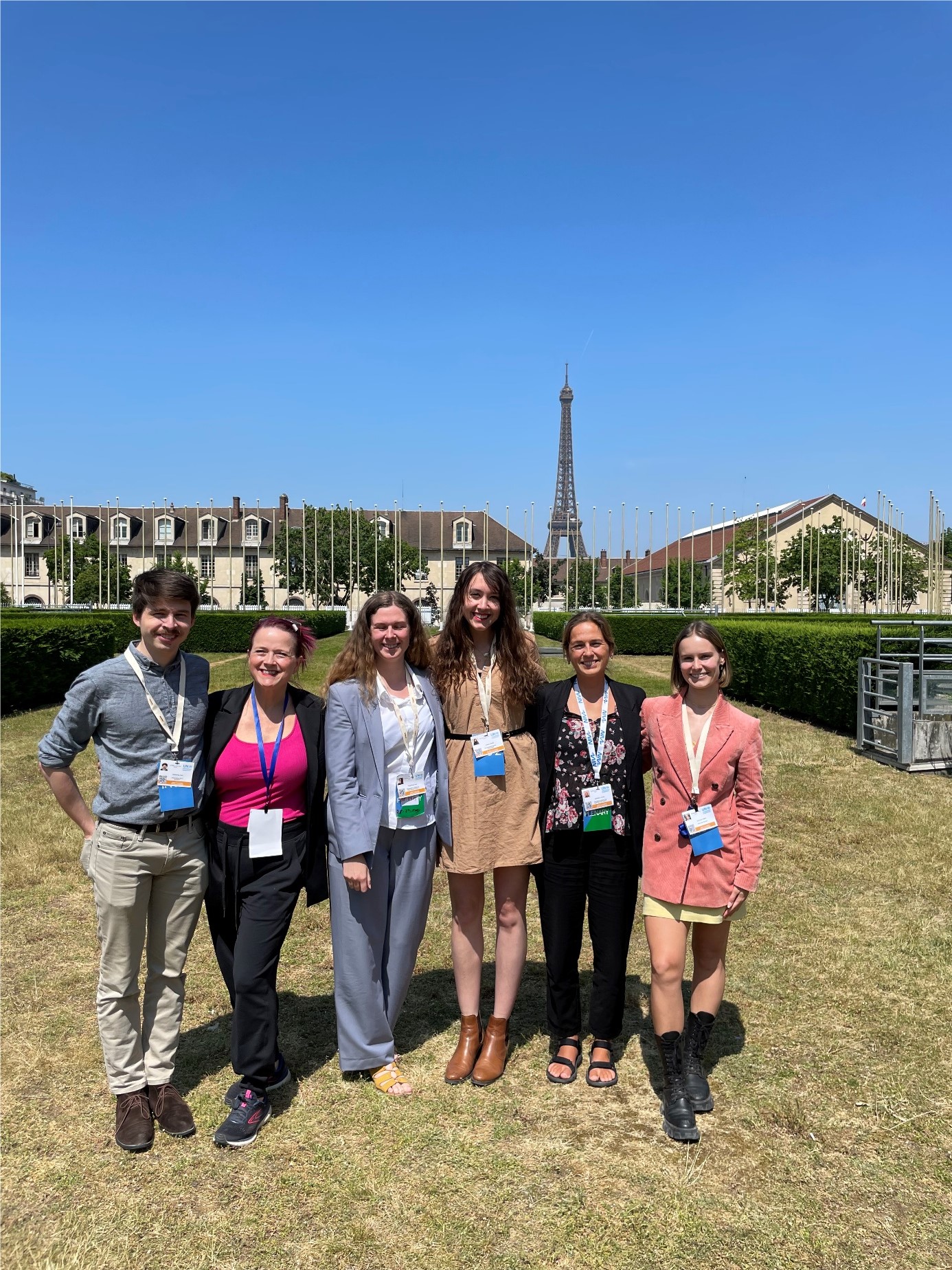 Team of Event Ethnographers from Lund University, NIVA, and the University of Sydney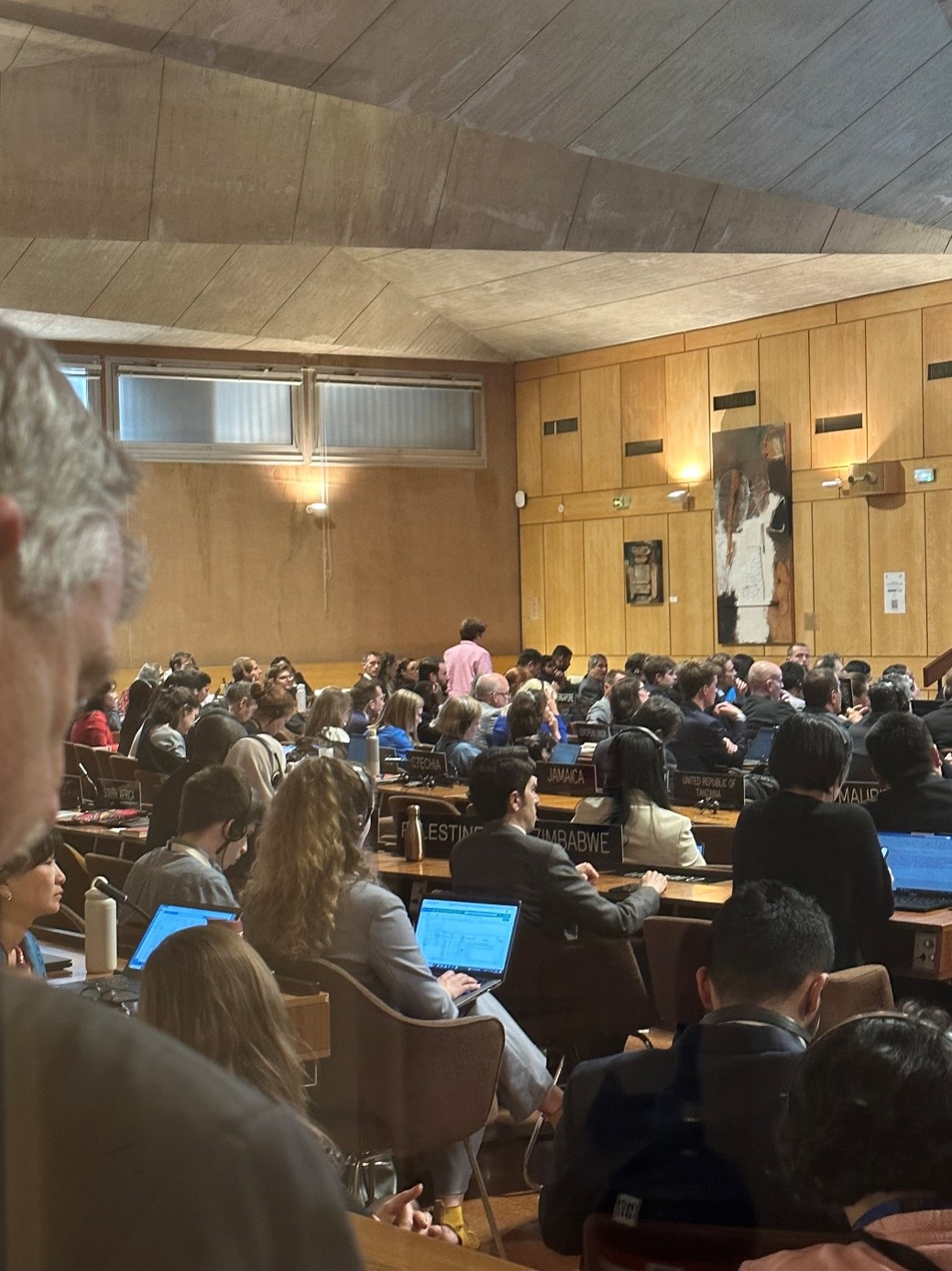 Informal discussions on intersessional work