Fablab' installation to advance customised FMCG at technology innovation catalyst CPI and SINTEF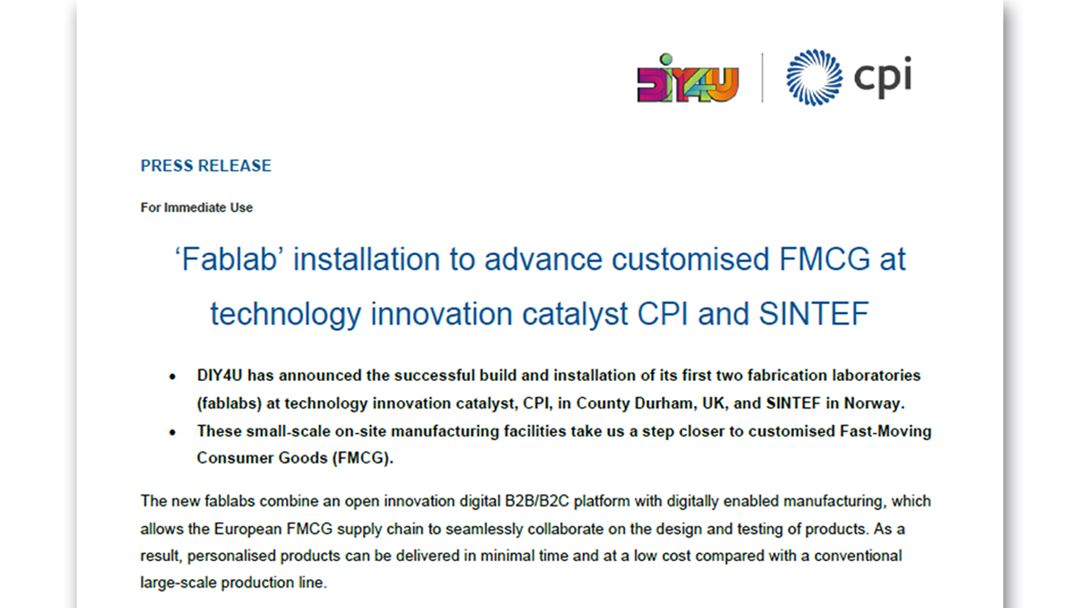 DIY4U has announced the successful build and installation of its first two fabrication laboratories (fablabs) at technology innovation catalyst, CPI, in County Durham, UK, and SINTEF in Norway.
These small-scale on-site manufacturing facilities take us a step closer to customised Fast-Moving Consumer Goods (FMCG).
The new fablabs combine an open innovation digital B2B/B2C platform with digitally enabled manufacturing, which allows the European FMCG supply chain to seamlessly collaborate on the design and testing of products. As a result, personalised products can be delivered in minimal time and at a low cost compared with a conventional large-scale production line.
Global and local manufacturers, retailers, innovation stakeholders, and individual consumers can customise products using a digital platform that is accessed through a website. Linked to the digital platform, the integrated fablab machine manufactures and tests the product on-demand to meet consumer requirements. The digital platform and fablabs bring together expert knowledge of how to combine chemicals effectively and safely – the formulation – and allow users to decide on the variables available for customising FMCG.
FMCG are everyday products, ranging from home and personal care to food and beverages, which consumers purchase frequently and use quickly. A current megatrend is that consumer preferences are shifting towards more personalised products. The successful capture of end users' desires and production of truly customised FMCG locally, on a small scale, while improving the sustainability of the product, is a considerable challenge for an industry built upon large-scale manufacturing.
DIY4U is a consortium of 13 partners led by SINTEF, which aims to address the blockers of decentralised customer-centric production and collaborative, small-scale manufacturing. The project unites leading global FMCG companies and small to medium-sized enterprises (SMEs) across Europe to support industry innovation and research and technology organisations (RTOs).
The first fablab designed to produce liquid FMCG is now in action at technology innovation catalyst CPI's state-of-the-art formulation facility in the UK, while a complementary fablab for powder based FMCG has been installed at SINTEF's facility in Norway. Initially, these fablabs are supporting the production of customised laundry detergents. However, through market studies and extensive trials to ensure their safe and effective operation, it's hoped that they will demonstrate the small-scale manufacture of thousands of customised products, from cosmetics, vitamins, and dietary supplements to household products, snack bars, and soft drinks.
The fablabs are supported by a digital platform that uses digital formulation design tools, including process simulation, cost and environmental modelling, and machine learning to optimise a formulation to a customer's requirements. This has been developed, designed, and built by CODY, a Norwegian SME specialising in custom-tailored production equipment, machinery, and prototypes.
DIY4U is working towards the UN sustainability goals on responsible consumption and production, and industry, innovation, and infrastructure. Fablabs can operate as refill stations, reusing containers and minimising the use of disposable packaging. In addition, wastage incurred through bulk and overproduction can be minimised, as this is superseded by personalised small-scale manufacture, giving consumers exactly what they want, on-demand.
The development of fablabs has had input from SMEs active in industrial digital technologies from across Europe. DIY4U is also supported by industry innovation and RTOs, including CPI and the UK's Digital Catapult.
Although the concept is still some steps away from delivering customised products to individual consumers, DIY4U is forging a path to a Europe-wide network of fablabs that bring personalisation to the fingertips of every consumer.
DIY4U is keen to hear from interested parties. With input from digital and data specialists and those in the formulation and manufacturing sectors, the project partners are excited to have reached the milestone of installing the first functional fablabs.
Chandana Ratnayake, Project Lead at SINTEF, said:
"At SINTEF, we would like to continue strengthening our R&D on powder processing operations with advanced digital technologies. We intend to tie up with a wide range of industries such as pharma, cosmetics, and the food sector to develop fablab solutions for customised manufacturing and apply it to chemical/process industries for rapid prototyping."
Mark Taylor, Chief Digital Technologist at CPI, said:
"The project will conclude in April 2023, and we are looking beyond this to how the DIY4U concepts can be exploited across FMCG markets. To this end, CPI is currently leading a group of open innovation projects looking at the feasibility of applying the DIY4U technologies beyond the initial (home laundry care) application.
"SINTEF and CPI, supported by the consortium, are developing training to explain the concepts and technologies behind DIY4U, and are supporting Digital Catapult as it develops an open innovation community to extend the DIY4U concept. CPI will also take a lead in demonstrating fablabs' impact to its extended network throughout the FMCG supply chain and make the fablab technology available for use by other companies."
Ken Andre Myhra Kihle, CEO at CODY, said:
"Our engineers have put their creativity, experience and knowledge of machine building and product development into this project. At CODY, we have always had a strong focus on modular design, and the fablabs display modularity on almost every level, both mechanically and digitally. We are now investigating the possibilities for commercial exploitation of the project results. We believe that we can use the principles of this design to develop new machines for the production of personalised FMCG in industries like cosmetics, food, dietary supplements, and pharmaceuticals."
Notes to the Editor
About DIY4U
DIY4U is European funded project that brings together a leading global Fast-Moving Consumer Goods (FMCG) Company, expert Small to-Medium Enterprises (SMEs) from across Europe and supporting Industry Innovation and Research & Technology Organisations (RTOs).
DIY4U focuses on digitalising and transforming European industries and services involved in the formulation, production and supply of particulate and liquid-based Fast-Moving Consumer Goods (FMCG), enhancing the innovation capacity and competitiveness through decentralised customer-centric production approaches, by promoting the adoption of Open Innovation (OI) digital platform for collaborative production engineering and fablabs (digitally enabled small-scale manufacturing machines/factories).