Helga (Kikki) Flesche Kleiven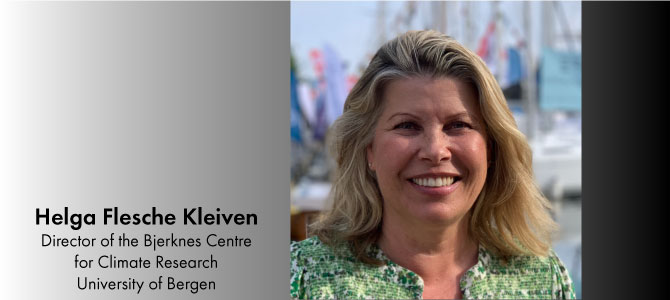 Helga (Kikki) Flesche Kleiven
Director of the Bjerknes Centre for Climate Research, University of Bergen
Kleiven is the director of the Bjerknes Centre for Climate Research at the University of Bergen. Kleiven is a marine geologist by training with a particular expertise in ocean currents, reconstructing past ocean and climate variability.
Kleiven has led and participated in several international projects and scientific expeditions in the Arctic and Antarctic oceans, and acts as Norway's national representative to the International Ocean Discovery Program. She is also on the board of directors of the Norwegian Climate Foundation and UNEP Grid Arendal.
For almost a decade Kleiven has worked with the Norwegian Ministry of Climate and Environment and the Norwegian Environment Agency, arranging and giving popular lecture campaigns on climate and environment for Norwegian high school teachers, pupils, and teaching colleges. She is also frequently consulted as a climate expert by the media, NGOs, industry and business companies, and is a renowned public speaker, delivering presentations extolling importance of climate awareness.