"Geology is more than just rocks!": NCCS master's students represent carbon storage at UiO open day
Two of NCCS' master's students attended UiO's open day to talk to prospective students about geoscience and carbon storage. NCCS postdoc researcher Siân Evans spoke to them about their experience.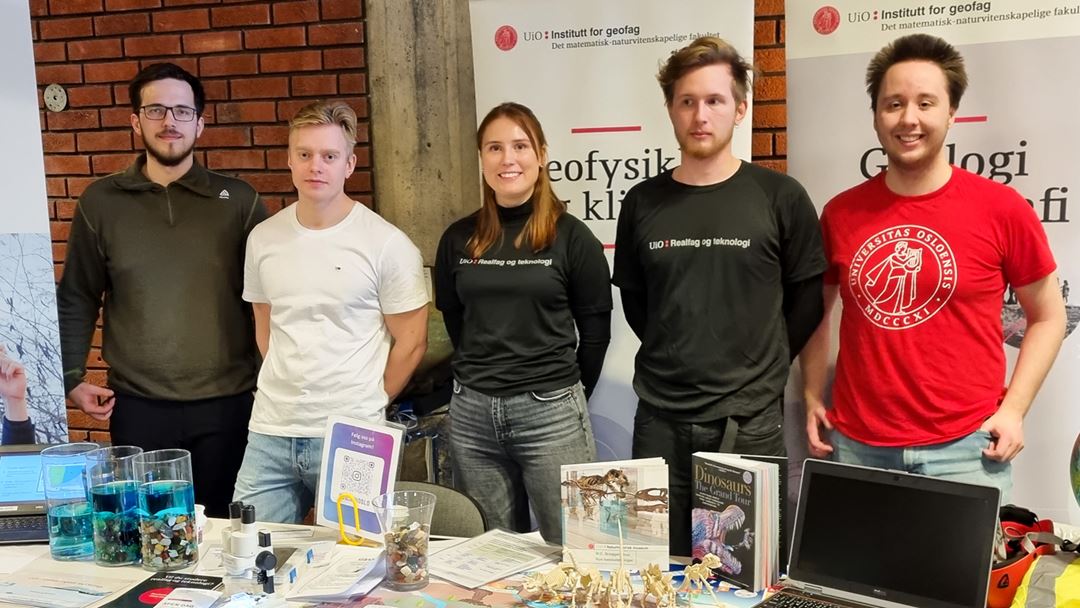 Authors: Siân Evans and Catherine Braathen
On 14 March, the University of Oslo (UiO) hosted an open day for prospective students. Given UiO's sustainable energy strategy, it was only fitting that the Department of Geosciences participated in order to show how our research can contribute to a more environmentally friendly future.
Among the department's student representatives were two of our master's students, Kristoffer Sundsmoen and Jørgen Kalaoja, whose work focuses on the storage part of carbon capture and storage (CCS). Their studies are being supported by NCCS as well as UiO:Energy, the latter of which has CCS as one of their four focus areas.
Kristoffer and Jørgen are also part of a team that produces popular information material on their subject, and the open day was their first opportunity to showcase the results of this work at a live event.
"Geology is more than just rocks!"
Many of the attendees were surprised at just how diverse geoscience can be. As Kristoffer and Jørgen explained to them, geology is much more than just digging up rocks; its research areas include everything from the climate to geo-hazards to planetary science.
In general, there was a lot of interest in the application of geosciences in the fields of renewable energy and sustainable industry. This presented an excellent opportunity for Kristoffer and Jørgen to begin talking about CCS.
While most attendees had not heard of CCS, they quickly got on board: grasping the concept and asking highly relevant questions regarding the technology's safety. Kristoffer and Jørgen were able to reassure them and explain all the measures that have been put in place to monitor and measure risk. Those who had heard of CCS were keen to find out more.
Throughout the day, the Geo-stand had queues of up to 4-5 people, all keen to hear how the Department of Geosciences are working for Planet A. We hope to see many of these faces again in the autumn.