Fast-tracking CCS deployment in Norway, Europe and the world
Europe is steering towards a net zero-CO2 emission economy. "To make that possible, we need to maintain a high level of security of supply, low cost of energy while at the same time maintaining the very crucial process- industries in Europe. But industrial companies have to operate very differently in 2050 than today if we are to reach our climate targets. It is very hard to see this happening without a huge deployment of CCS across Europe", says Tord Lien, NCCS Chairman of the Board.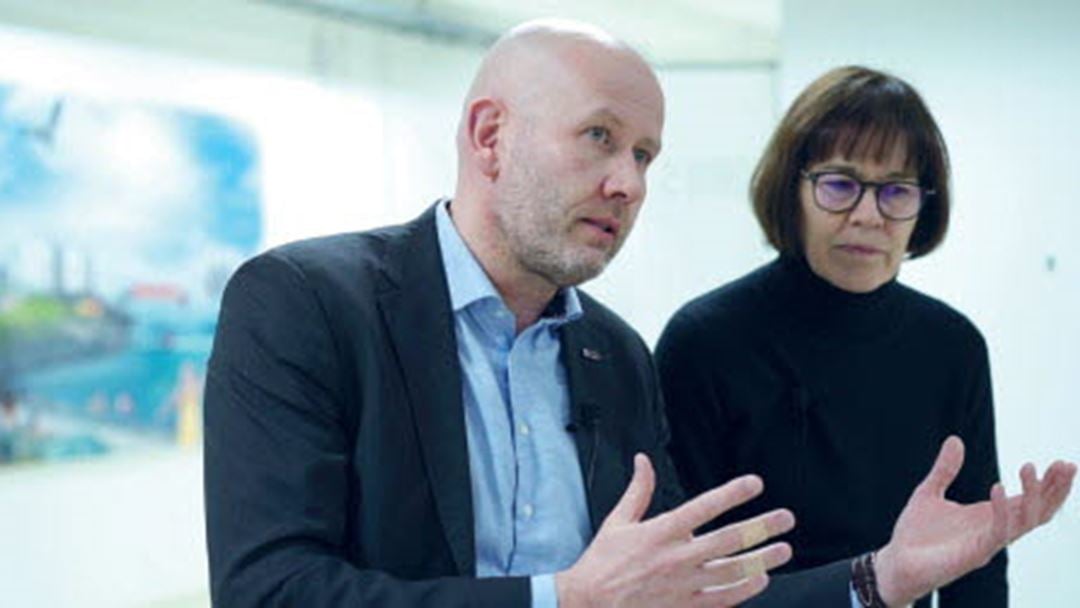 "That's why a research center like NCCS, where industry, R&D, authorities and academia cooperate to fast-track CCS deployment in Norway, Europe and the world, is so important".
2019 – a year of great importance for NCCS research and strategy
"2019 was a great year for NCCS! We have produced strong scientific results, which you can read more about in this report. The involvement from industry is stronger than ever. We have a great team of industry experts (vendors and users) and a team of research partners, both national and international, with high engagement in the Centre. Because of international collaborations, there have also been several spin-off projects from NCCS in the EU H2020-programme", says Mona Mølnvik, Director of NCCS.
The year kicked off with the presentation of the Effect Study to the (then) Minister of Petroleum and Energy, Kjell-Børge Freiberg. The study showed that energy research leads to important, profitable innovations for industry. "In this study, we have explained the specific value of our research", Mølnvik says.
Two new industry partners joined the Centre in 2019: Lundin AS and Vår Energi. Also, Baker Hughes are in the final stages of joining NCCS. "We are extremely proud to have them on board. It's a huge achievement for us.
Without industry support, there would be no research. We cannot stress the importance of our close cooperation with industry enough", says Mølnvik.
NCCS' already strong coupling with a broad industry continued in 2019 as Tord Lien was introduced as the new Chairman of the Board. Lien is a Regional Leader in the The Confederation of Norwegian Enterprise (NHO). He is also a former Minister of Petroleum and Energy in Norway.
"Tord will work with NCCS on a strategic level by connecting and working more closely with industry, in addition to help promote the CCS technology even more in Norway, Europe and other parts of the world", explains Mølnvik.
Five new spin-off projects started up last year. Among these are competence building projects with funding from the CLIMIT, PETROMAKS and Energi X programs operated under the Research Council of Norway. Together with the two spin-off projects in 2018, this has given the Centre an extra 60 million NOK in funding. "This is a huge achievement and it brings more momentum into the Centre" Mølnvik says proudly.
"One example of another industry-anchored spin-off project is the Climit demo-funded Preem project", Mølnvik says. The main objective is for Preem to under- take on-site CO2 capture from their hydrogen production facility at Lysekil. The goal is to enable full-scale CO2 capture with connections to the Norwegian Full-scale project.
"In June, we hosted the 10th Trondheim CCS Conference (TCCS). TCCS is the world's second largest scientific CCS conference with more than 400 delegates from all around the world, representing industries, governments, research institutes and NGOs", Mølnvik explains.
Norway as a frontrunner on CCS – Possibilities, climate contribution and value creation in industry
Countries have a moral obligation to help achieve the Sustainable Development Goals and the Paris Agreement. Because of Norway's ability to store CO2 on our Continental Shelf, CCS can be one of our big contributions to reaching these goals", Lien says.
He also emphasizes that there are economic benefits to a Norwegian CCS industry. "There is an obvious change in the European energy market. We see a strengthened
demand for hydrogen. At the same time, Norway has high levels of natural gas remaining on the Continental Shelf. If we make hydrogen from natural gas, use CCS to capture
the CO2, deposit it back on the Norwegian Shelf and sell hydrogen to Europe, we will help Europe become the first continent with net zero emissions, while at the same
time creating jobs and income for Norway", he says.
In 2020, the Norwegian Government will decide whether to invest in a CCS infrastructure, enabling large-scale CCS deployment. "This is one of the most important decisions that needs to be made in Norway next year" Lien says.
"This is also of highly motivational for researchers that have been working on this project for many years, to actually witness the results of what they have been working on and to be realized on a huge scale", says the Chairman.
A typical counterargument for investing in CCS is costs. But Mona does not see cost as a barrier. "First of all, implementing full-scale CCS in Norway, Europe and other nations in the world will in itself bring costs down. The overall competence and knowledge in the field will also increase. Together with continued research effort, this will lead to innovations in addition to bring incremental changes within existing technologies. Both will bring costs down", says Mølnvik. She mentions the Boundary Dam CCS project in Canada. They have already built one CO2 capture plant and are looking at a 67% cost-reduction* for CO2 capture in their next plant. "There is no reason for not having many more full-scale CCS projects around the world" Lien adds.
*Read more: Cost of Capturing CO2 Drops 67% for Next Carbon Capture Plant