Case C8 - SCADA data collection system
Making data available from the power plant is a basic starting point for any analytics or algorithms for predictive maintenance. At the start of the MonitorX project in 2015, it was a particular challenge to get access to data from power plants. One of the reasons for this was that it was not accepted to access the SCADA and dispatch center to extract the data.
Voith Hydro AS agreed to look at this challenge, in a cooperation with TrønderEnergi, and to develop and test new solutions for better data access. Voith had supplied a new control system to TrønderEnergi's power plant Brattset in 2014. The new solution for data access, that was added to the control system, transfers the data to a server in Heidenheim (Voith head office), Germany, from where TrønderEnergi, SINTEF and other MonitorX partners could download the data via a simple interface. The data was used for different tests and verification, including the above described case C2.
The PLC configuration of the solution is shown in the figure. The additional hardware that was added to transport the data out of the plant is shown in the upper right corner. The data has been collected directly from the PLCs with a time resolution of approximately 1 second. In total approximately 1200 signals are transferred, out of this approximately 10 % are analogue values (measurement values like temperature, current, pressure, etc.) and 90 % are digital signals (status changes, alarms or commands like on/off, open/closed, alarm level crossed, etc.). In total 32 GB of raw data is stored from March 2017 until May 2019.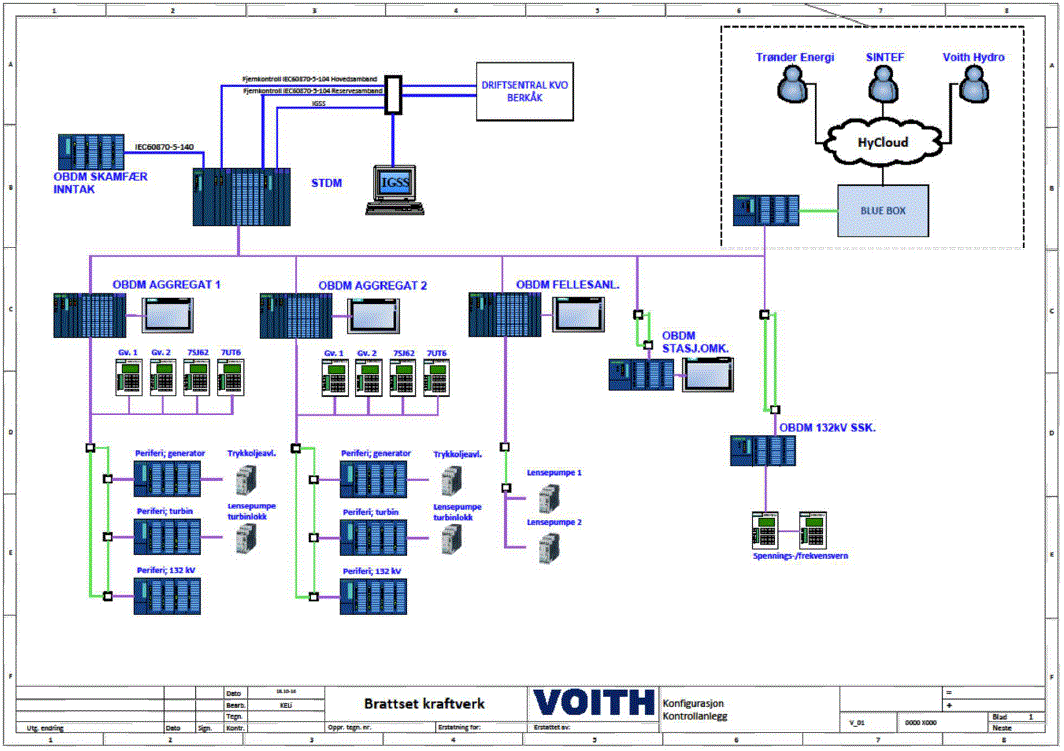 Brattset PLC structure.
Gemini article (in Norwegian): "Graver i fjellets hemmelige gullgruve"