About
LowEmission is a research centre for low emission technology for petroleum activities on the Norwegian continental shelf (NCS). World-leading Norwegian and international industrial entities including vendors, operators and energy companies join forces with globally recognised research groups at SINTEF and NTNU, and other top-rated universities and research institutes.The mission is to pave the road towards zero-emission production of oil and gas from the NCS.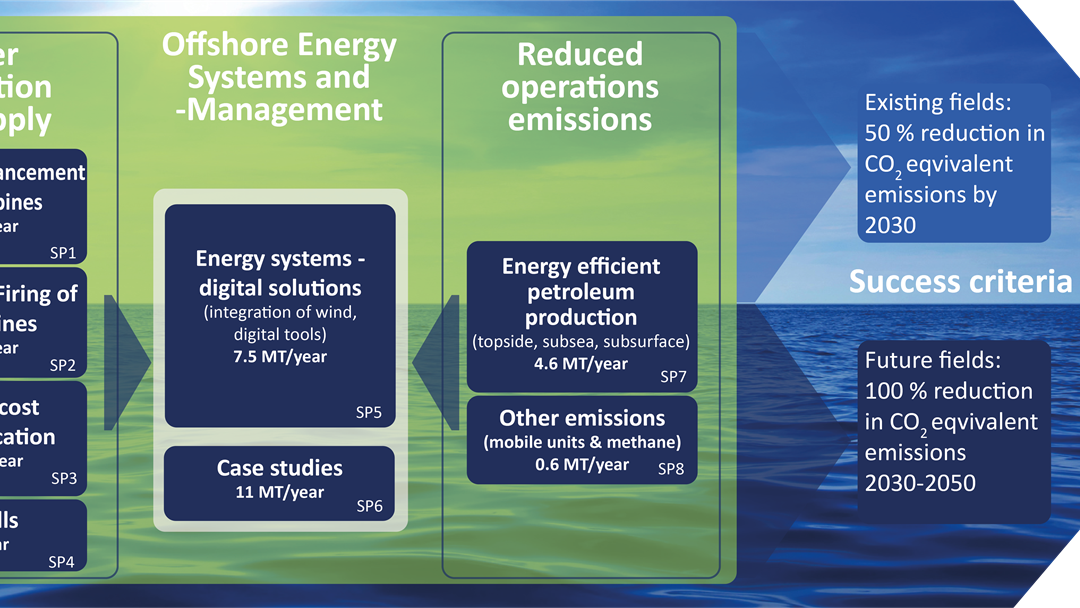 Sub-objectives of LowEmission are to:
Develop solutions for co-optimizing power supply and demand in the offshore energy system.
Reduce cost of LowEmission O&G technologies by 5-50 %.
Develop a digital energy management tool for planning energy use of fields and the CO2 footprint of operational choices over the life of the field including short- and long-term uncertainty.
Provide 10-15 innovative solutions for offshore emission reductions.
Generate 8 KSP, 10 IPN, 4 DEMO and 4 EU spin-off projects.
Educate 19 PhD students/postdocs, 30 MSc candidates, and training, recruitment of 20 experts in offshore low-emission technologies.
Disseminate and communicate project results in 70 journal and conference papers, present in O&G specific workshops and meetings such as ONS and OTC, and disseminate news articles.
Perform brown and green-field case studies to demonstrate actual emission reductions.
The successful outcome of LowEmission will allow the oil and gas industry to:
Facilitate rapid deployment of low-emission technologies and system solutions that reduce offshore O&G related GHG emissions.
Increase value creation in the Norwegian O&G industry.
Commercialise products based on LowEmission results in the international market.
Create new digitalized decision-support and planning tools for operators and vendors.
Perform relevant case studies with emphasis on the system perspective.