Flow Technology
The Flow Technology research group has a strong competence on multiphase flow modelling of industrial processes. The group has three market focuses, the Flow Assurance market, Multiphase reactors, and Generic Flow Modelling
---
Our three market focuses:
Flow Assurance market
To ensure safe and economical oil and gas processing and transport from the reservoir to point of sale efficient engineering tools are needed. This implies a continuous development and experimental validation of computer simulators for multiphase flow.
Expertise:
Modelling multiphase flow phenomenon – from micro to MACRO scale
The impact of surface chemistry
Hydrates, wax, asphaltenes, scale and sand
Separation
Thermodynamics
Multiphase reactors
To design, optimise and scale up multiphase reactors for energy/materials conversion with a strong emphasis on processes with integrated CO2 capture. The validated reactive multiphase modelling by dedicated experiments is used to develop novel reactor concepts and to accelerate the scale up of promising technologies.
Expertise:
Reactive multiphase flow modelling for the detailed simulation of fluidized and packed bed reactors
Development of 1D modelling tools for rapid simulation of fluidized and packed bed reactors
Development and scale up of Chemical Looping technologies
Multiscale modelling for reactor design and scale up

DEM-CFD modelling for catalyst design in packed bed reactors
CFD-Process flowsheet modelling for process design and optimisation

Dedicated lab scale experiments for

Demonstration of novel reactor concepts
Detailed multiphase model validation

Electrolysis processes

Magnetohydrodynamics
Population balance modelling (PBM)
PBM-Volume of fluid coupling
Bubble-bubble interaction phenomena
Generic Flow Modelling
To apply the competence on Computational Fluid Dynamics (CFD) to a variety of industrial applications to reduce risks and optimise operation.
Expertise:
Wind farm design
Atmospheric gas dispersion
Fouling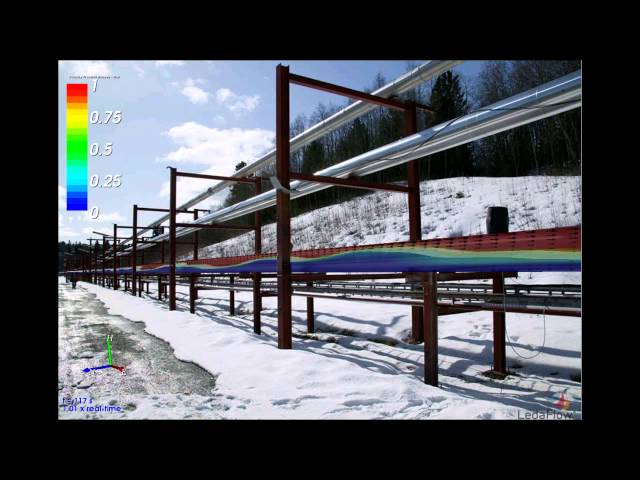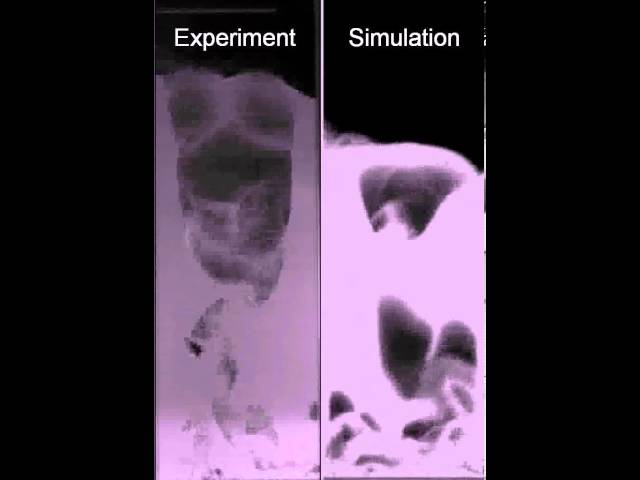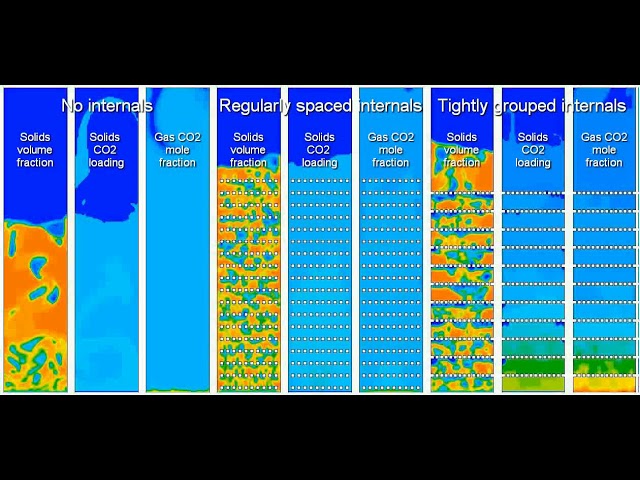 This animation shows the effect of internal obstructions on the degree of solids mixing inside a fluidized bed containing a sorbent for CO2 capture. Some degree of axial solids segregation is required to maximize CO2 capture efficiency. The case with no internals shows very good mixing and a uniform solids CO2 loading throughout the bed. Regularly spaced internals completely alter the bed behaviour, but mixing is still sufficient to result in a uniform solids CO2 loading. Only when internals are tightly grouped together, can a large degree of axial segregation be observed in the solids CO2 loading, resulting in better CO2 capture performance.