With your heart in his hands
From SINTEF annual report, 2011
---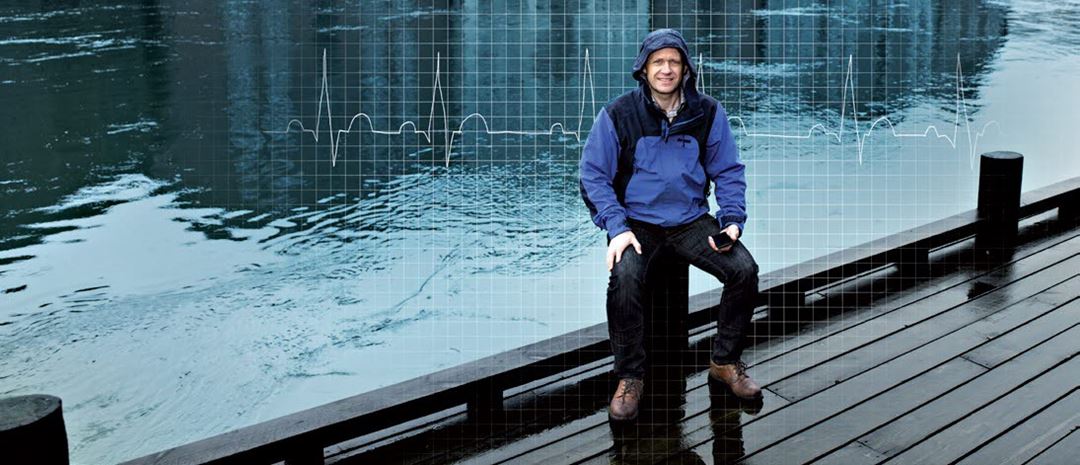 The so-called "frequent fliers" or "revolving door" patients; the elderly wave; telemedicine: these three phrases are appearing more and more often in both newspaper headlines and government white papers – and together they make up an important part of the everyday life of SINTEF research scientist Frode Strisland. He has recently come home from the USA, where a group of heart patients have volunteered to test out a new piece of medical equipment that will make life safer and easier for patients who frequently move in and out of hospital.
"According to Statistics Norway, the ratio of active working people to pensioners will drop in the coming years. Today, there are five people in work for every pensioner; by 2050, the ratio will be only three to one, or even less. This means that we will not only need many more care professionals, but also that we will have to solve the health sector problems in smarter and not least, less expensive, ways – without reducing quality-of-care. A similar trend is seen throughout the Western world: an increasing number of people live to reach retirement age – in increased risk of chronic diseases.
"That's why we have developed this," says Strisland, as he shows us a belt to which a little box stuffed with electronics is attached.
The sensor belt is fastened round the patient's chest, where it measures their heart-rate and level of activity. The belt sends its measurements to a smartphone, which in turn can pass the data on to health personnel. The user interface has been designed to be easy to use by elderly with limited experience with touch screen phones. This approach means that in principle, the person caring for the patients can be miles away – but still provide significant support and security to the patient. This is welcome news for our crowded hospitals as well as for the patients who will now not need to be admitted to them – but who do need close medical follow-up in their own homes.
The SINTEF scientists were given the job of developing the new technology
in collaboration with an American partner company, and the project funding comes from the United States Congress.
"In the US, health-care is a personal affair, and if you have not taken out expensive health insurances illness can ruin your economy – if you actually get treatment. Going in and out of hospital can therefore be a heavy financial burden on patients and their families. Our solution can reduce the number of hospital admissions for patients with chronic illnesses because it gives them access to early treatment – that is, before a problem has become overwhelming, acute and difficult to deal with," says Strisland.
Moreover, the bacterial flora in hospital environments can differ from those found in home environments. This is due to intense cleaning following hygienic requirements. The hospital environment therefore can enable certain resistant bacteria to thrive; bacteria that are not good for chronic patients with a challenged immune system. Therefore, in this respect, your own living-room may be a better
choice.
According to the SINTEF scientist, problems such as these are highly relevant also to Norway and other European countries. The new equipment has another function than merely passively transmitting information: it also encourages patients to carry out physical activity.
"For this patient group, a very wide range of physical activities must be considered; some people are so ill that just getting up to fetch a newspaper can be a challenge. We try to adjust the system with activity level that is suitable for the individual patient. The equipment registers this activity, and when patients exert themselves as much as the doctor recommends, they are rewarded with a heart symbol on their telephone," says Strisland, showing us a text message from the cardiac patient in South Carolina: "Today I met my goal, and I got the heart!!" the message says.
"Sometimes it doesn't take much to encourage people to make an extra effort, and this can be very important for the patients."
"It was by no means certain that the Norwegian scientists would gain access to the US telemedicine market with this project, which goes by the name of "Enhanced Sustained Use Monitoring System" – ESUMS: According to the SINTEF scientist, the USA is the largest and most demanding market for telemedicine systems.
"If you can make it there, you can make it anywhere," concludes Frode Strisland.